This course has a rating of
Alive! Is the most extensive Blender animation course released to date. It will take you from the very fundamentals of motion in Blender to high-end, advanced level character action animation.
Course requirements
This course is for perfect animation beginners to advanced animators. You don't need to know how to animate in Blender but you do need some experience with the software to be comfortable with its UI, base tools and navigation.
What's included in the course
More than

180 videos

Over

32 hours of lessons

and exercises

All blender files

per lesson
A ball rig
A Low poly squirrel rig
A Battle mech robot rig
A super hero "Trident" character rig 
Including updated Blender 4.x course's files
What you will learn
Getting access to educational animation content is generaly quite expensive and often difficult to know where to start. That's why I've designed this course to give you all the fundamentals of animation and teach you the tricks and techniques you'll need to create everything from a cute character short to kickass action animations. We will cover all of this using Blender, the free and open source software, but you will be able to transfer all these techniques to any other software or animation medium. There is something in this course for everyone from complete animation beginners to more experienced animators.

Blender animation tools and workflow
From your first keyframe to in depth animation tool understanding. (dopesheet, action editor, NLA, graph editor…)
Animating simple objectUnderstanding 3D space
Animating a rigged object with multiple bouncing ball exercice
Animating a rigged character
Full pipeline to create a short animation, step by step
Preproduction
Using the camera
Staging
Advanced animation techniques
Animating a robot with the layered approach
Introduction to space switching
Baked animation
Advanced space manipulation
Human locomotion
Fundamental of body mecanics
Advanced step by step run cycle
Advanced step by step walk cycle
The art of posing
Reference studies
Body mechanics
Pushing the pose
Advanced action animation.
4 hit combo.
Reference studies
Full process
Blocking
Breakdowns
Blocking plus
Splinning
Polishing

Character intro animation.
Camera work
Planning
Full blocking
Environment and composition
Advanced polishing techniques


Pay once
And get any further lessons and updates for free. New lessons will be added to the course later on. No subscription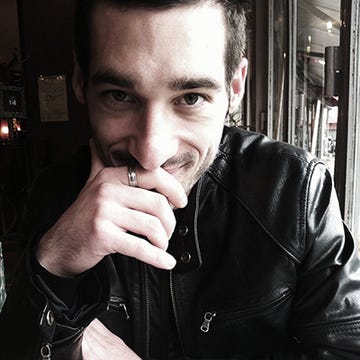 Your Instructor - Pierrick Picaut
With more than 10 years of experience using Blender, a solid 3D generalist background and multiple successful Blender courses, currently senior animator at Amazon Games, I have been publishing educational content for over 8 years.
I am a self taught 3D artist, so I know what it takes to learn this amazing craft. I have become a Blender foundation Certified trainer and my goal is to give you my passion for 3D and art through highly detailed, comprehensive and professionaly edited courses.
Get started now!
And get any further lessons and updates for free. New lessons will be added to the course later on. No subscription.